CLICK HERE For CNN's Interactive
Gigapixel View of the 2017 Inauguration
(Thanks, Rick)

It's pretty amazing. When I zoom in below the camera
toward the band, I can actually read their sheet music.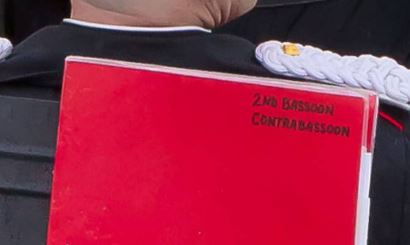 Even more amazing, when I zoom in as far as the
camera can reach across the crowd, I can read this
press member's badge!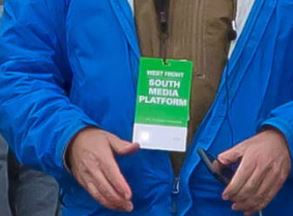 I'm curious. I could not detect any movement in
anyone or anything. It made me wonder if it's
possible to take these photos in a single shot. I
know that would be really something and more
less impossible.

It wasn't that way. Somehow they managed to
take several photos (maybe really fast?) and
stitch them together using some pretty amazing
recognition software.

Here's proof. Look at this pole and then the guy's
face. Notice there's a break where the software
couldn't quite match them together.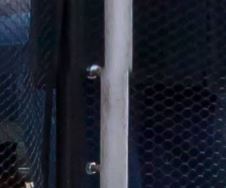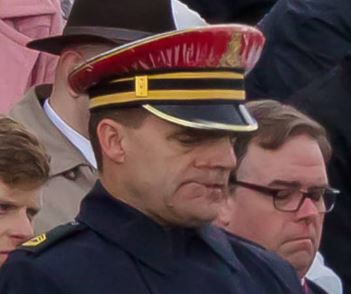 Ok, so the software isn't flawless. But look the photo over.
Zoom in. See if you can find any such mismatches. I
only found these two plus one other.

After that I began looking for stuff I heard on the news.
As you know, the "Mall has the Lincoln Memorial on
one end, the Capitol Building on the other, and the
Washington Monument in the middle. Between it
and the Lincoln Memorial are reflecting pools.
But between the Washington Monument and the
Capitol Building are lawns the same shape and size.

On the news, they said they covered the grass
with "flooring." I was really curious about that.
This CNN Megapixel photo allows this closeup of
that flooring. Here it is: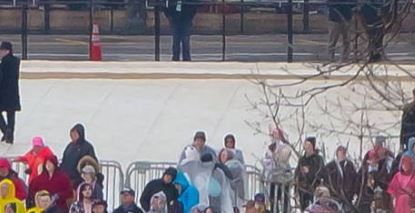 You can see the "flooring" as you zoom into the crowd
looking from the Capitol Building toward the Lincoln
Memorial. While doing that, one thing I noticed that
was VERY unusual -- this 2-Story TENT. Yes, a tent!

In this view you can see the blurry appearance of the
Washington Monument's base wiht the equally blurry
Lincoln Memorial in the center of the photo behind
the tent in the distance.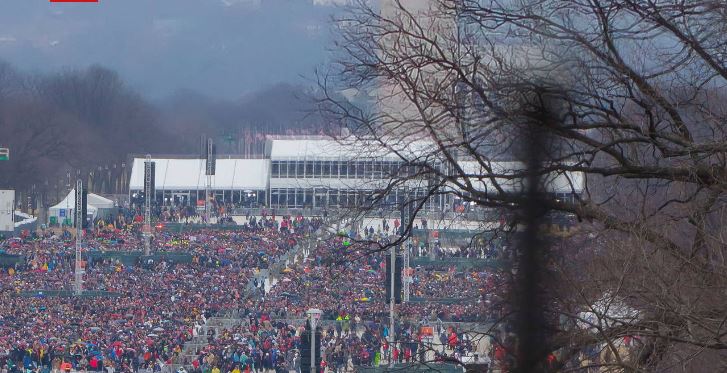 Never heard of a 2-story tent before but this is definitely
a temporary building. You can zoom in and see that it's
covered with some kind of clothe or fabric and you can
see through it's windows to view the X-shaped braces
holding the walls up. As further proof, here's a photo
of the same area without all the extra things there for
the inauguration. No tent!
(CLICK photo for larger view)
Here's the story on it. It's called the "Media Village
Tent" and it's quite large. The story I found said
it was provided by McCarthy Tents and Events.
Here's a better photo of the Inauguration tent
(CLICK PHOTO for a larger image):